Geographical Position
Alexandria, residence Town of Teleorman County, is situated in the south of the country, at an altitude of 47 m, on the Vedea River, which springs from the hills in the south of Pitesti and flows into the Danube, to the west of Turnu Măgurele. The geographical coordinates are: 43°38′ latitude North and 25°30′ longitude East.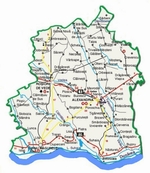 The position of this town has its advantages and disadvantages. The first advantage is the fertile soil, with chernozem zone, very fertile for grain crops (wheat, maize), sun flower, cotton, soy, castor oil plant, hemp, flax, sugar beet and vegetable growing. The disadvantage is the ground water at a depth of 1,5 – 3 m, with its effects: lack of natural filtration and periodical floods and the vertical currents which bring dust into the atmosphere. Alexandria has a temperate-continental climate, with high values of temperature. Rainfall is low, averaging 550-600l/mp, and comes mainly in summer but there are periods of drought, too. The absolute minimum temperature registered was – 34,8° C (24-25 January 1942), and the absolute maximum temperature was + 42,9° C (5 July 1916). The main winds are the west and the east winds.
The North Wind blows from the east, especially in the middle of the winter and the South Wind, with a low frequency, is very dry, hot and foreboding the drought. The Warm Wind, from the Danube Valley, is a warm and wet wind, favourable for the vegetation growth.
Because of its position, Alexandria has always been a communication junction. It is a link between the capital, Bucharest, and many country towns, or between them: D.N. 6 connects Bucharest, through Alexandria, with Roşiorii de Vede, Caracal, Craiova, Timişoara; D.N. 52 connects Alexandria with Turnu Măgurele, Corabia, Calafat etc; D.N. 51 connects Alexandria with Zimnicea; D.J. 504 connects Alexandria with Piteşti and Câmpulung; D.J. 601 connects Alexandria, through Găeşti, with Târgovişte; D.J. 506 connects Alexandria with Giurgiu.
The distance between Alexandria and the main towns in the area are: Alexandria – Bucureşti, 99 km; Alexandria – Piteşti, 100 km; Alexandria – Zimnicea, 40 km; Alexandria – Turnu Măgurele, 48 km.
Alexandria is situated on the railway Roşiorii de Vede – Zimnicea, constructed at the end of the last century, when the railway station was built, too. This railway connects Alexandria to an important railway junction, Roşiorii de Vede which is a link to all the thoroughfares from the country.